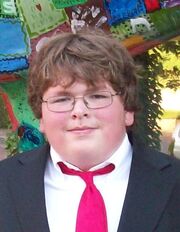 Amazing!!!!!!!!!!!!!!!!!!!!!! -
orangeperson15
Early Life
Edit
Same as now, only in the past.
Appearances
Edit
Parry Trotter
Edit
1 - Newscaster, Doubledork, Magrid, Uncle Morton Dirty, Rocky Rhode, Professor Binns, Professor Snapple, Bully #1, Student #1, Narrator, Security Guard, Professor Quarrel, James Henry Trotter, Documentary Narrator
Ad blocker interference detected!
Wikia is a free-to-use site that makes money from advertising. We have a modified experience for viewers using ad blockers

Wikia is not accessible if you've made further modifications. Remove the custom ad blocker rule(s) and the page will load as expected.