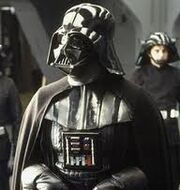 Darth Vader (formerly known as Anakin Skywalker, Ani, the Chosen One, and My Little Snuckums) is a Sith lord. He requires a fully functioning metal suit to keep him alive after his battle with Obi-Wan Kenobi on Mustafar.
Spouse: Padme Amadala (divorced)
Mother: Unknown
Father: Unknown
Children: Unknown
Appearances
Edit
The Death Star
Edit
- Pilot
- The Pit
- Quirrel
- Give Ireland Back to The Irish
- Birthday
- Science Fiction Double Feature Picture Show
- Petition
- Scenes From an Italian Restaurant
Harry Potter Crime Show
Edit
- Pilot
Ad blocker interference detected!
Wikia is a free-to-use site that makes money from advertising. We have a modified experience for viewers using ad blockers

Wikia is not accessible if you've made further modifications. Remove the custom ad blocker rule(s) and the page will load as expected.