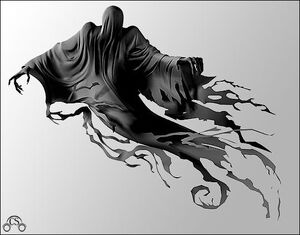 A Dementor is a non-being and Dark creature, considered one of the foulest to inhabit the world. Dementors feed off human happiness, and thus cause depression and despair to anyone near them. They can also consume a person's soul, leaving their victims in a permanent vegetative state, and thus are often referred to as "soul-sucking fiends" and are known to leave a person as an "empty-shell."
Ad blocker interference detected!
Wikia is a free-to-use site that makes money from advertising. We have a modified experience for viewers using ad blockers

Wikia is not accessible if you've made further modifications. Remove the custom ad blocker rule(s) and the page will load as expected.