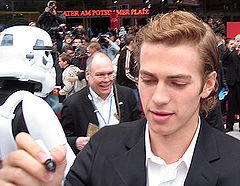 Hayden Christensen (born April 19, 1981) is a Canadian actor. He appeared in Canadian television programs when he was young, then diversified into American television in the late 1990s. He gained international fame portraying the young Anakin Skywalker / Darth Vader in Star Wars Episode II: Attack of the Clones and Star Wars Episode III: Revenge of the Sith.
On May 12, 2000, Christensen announced that he would be starring as Anakin Skywalker in the next two prequels. Director George Lucas had turned down such big names as Leonardo DiCaprio for the role, as well as 1,500 other candidates.
Appearances
The Death Star
Ad blocker interference detected!
Wikia is a free-to-use site that makes money from advertising. We have a modified experience for viewers using ad blockers

Wikia is not accessible if you've made further modifications. Remove the custom ad blocker rule(s) and the page will load as expected.