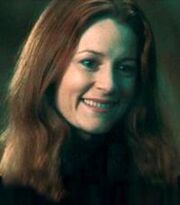 Lily Potter (née Evans) was a Muggle-born witch, the sister of Petunia. She learned that she was a witch as a child, after Severus Snape, a wizard boy who lived nearby, recognised her as a witch and told her of the existence of magic. The two became close friends, but their friendship became strained over the years due to Snape's irrepressible interest in the Dark Arts and his passion in joining the Death Eaters. Lily ended the friendship in their fifth year, after Snape called her a Mudblood. She attended Hogwarts School of Witchcraft and Wizardry and was sorted into Gryffindor house. A talented student, Lily was a member of the Slug Club and was made Head Girl in her seventh year. After Hogwarts, Lily married James Potter and they had a son, Harry. The couple and their best friends (Sirius Black, Remus Lupin, and Peter Pettigrew) all joined the Order of the Phoenix during the First Wizarding War; she and her husband defied Lord Voldemort himself three times. However, Lily and James were forced to go into hiding after a prophecy was made concerning Lord Voldemort and their infant son. James and Lily were betrayed by Peter Pettigrew to Lord Voldemort. Lily was murdered by Voldemort in 1981, along with her husband, while they were trying to protect their son.
Appearances
Edit
Harry Potter Christmas Specials
Edit
Ad blocker interference detected!
Wikia is a free-to-use site that makes money from advertising. We have a modified experience for viewers using ad blockers

Wikia is not accessible if you've made further modifications. Remove the custom ad blocker rule(s) and the page will load as expected.