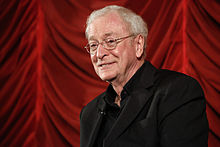 Sir Michael Caine, CBE (born Maurice Joseph Micklewhite; 14 March 1933) is an English actor and author. Renowned for his distinctive Cockney accent, Caine has appeared in over 115 films and is one of the UK's most recognisable actors.
Appearance

s

Edit
The Death Star
Edit
Ad blocker interference detected!
Wikia is a free-to-use site that makes money from advertising. We have a modified experience for viewers using ad blockers

Wikia is not accessible if you've made further modifications. Remove the custom ad blocker rule(s) and the page will load as expected.