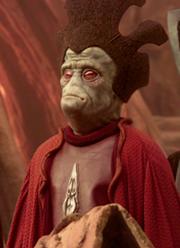 Nute Gunray was a Neimoidian from the planet Neimoidia. Following a stint as Minister for the Trade Federation, he rose in power after the Stark Hyperspace War, eventually becoming Viceroy of the Trade Federation. Gunray participated in the occupation of Naboo with the Federation Army to settle a trade dispute that began in the Galactic Senate.
Appearances

Edit
The Death Star

Edit
- I Wanna Be On TV (Previously... segment)
Ad blocker interference detected!
Wikia is a free-to-use site that makes money from advertising. We have a modified experience for viewers using ad blockers

Wikia is not accessible if you've made further modifications. Remove the custom ad blocker rule(s) and the page will load as expected.