Seal Team 6.5
is the fifth episode of
Christopher Minds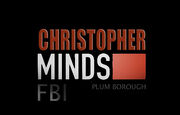 .
Adam Molinaro as Carter Williams
Jordan Casteel as Enrique Estaves
Andrew Glaser and CJ Lutz as Navy SEAL Team
- The first episode to not credit Jordan Casteel in the opening credits, as he is deported in this episode. Instead, Matt Shepard and Alex Denny are credited, although neither appear in the episode.
- The title of this episode is based on Seal Team 6, the NAVY Seal team that caught Bin Laden.
Ad blocker interference detected!
Wikia is a free-to-use site that makes money from advertising. We have a modified experience for viewers using ad blockers

Wikia is not accessible if you've made further modifications. Remove the custom ad blocker rule(s) and the page will load as expected.