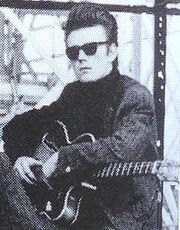 Stuart Fergusson Victor Sutcliffe (23 June 1940 – 10 April 1962) was a Scottish-born artist and musician; best known as the original bass player of The Beatles. Sutcliffe left the band to continue his career as an artist, having previously attended the Liverpool College of Art. Sutcliffe and John Lennon are credited with inventing the name of "The Beatles", as they both liked Buddy Holly's band, The Crickets. As a member of the group when it was a five-piece band, Sutcliffe is one of several people sometimes referred to as the "Fifth Beatle".
He made a cameo in the Death Star episode Hayden Christensen, but only because his minifigure, made for an earlier project, was used, and Darth addresses him by name.
Appearances

Edit
The Death Star

Edit
Ad blocker interference detected!
Wikia is a free-to-use site that makes money from advertising. We have a modified experience for viewers using ad blockers

Wikia is not accessible if you've made further modifications. Remove the custom ad blocker rule(s) and the page will load as expected.