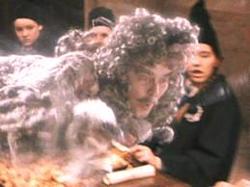 The Bloody Baron
is the Slytherin House ghost.
The Baron's nickname comes from the fact that he is covered with blood, which appears silvery on his ghostly form.
Appearances

Edit
Harry Potter Christmas Specials

Edit
- A Harry Potter Christmas Carol (the suit of armor)
Ad blocker interference detected!
Wikia is a free-to-use site that makes money from advertising. We have a modified experience for viewers using ad blockers

Wikia is not accessible if you've made further modifications. Remove the custom ad blocker rule(s) and the page will load as expected.