The End?
is the sixth episode of
Christopher Minds
.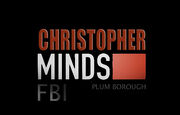 Adam Molinaro as Carter Williams
Alex Denny as Mike the Security Guard
- Several endings were planned and even filmed, but corrupted footage made the current ending necessary.
- The only episode in which Jordan Casteel does not appear, as his character, Enrique Estaves, was deported an episode earlier.
Ad blocker interference detected!
Wikia is a free-to-use site that makes money from advertising. We have a modified experience for viewers using ad blockers

Wikia is not accessible if you've made further modifications. Remove the custom ad blocker rule(s) and the page will load as expected.