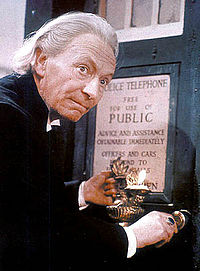 The First Doctor is the initial incarnation of a centuries-old Time Lord alien from the planet Gallifrey who travels in time and space in his TARDIS, frequently with companions. When the Doctor is critically injured, he can regenerate his body; in doing so, his physical appearance and personality change. The First Doctor is the youngest incarnation of the Doctor, but has the most aged physical appearance.
Ad blocker interference detected!
Wikia is a free-to-use site that makes money from advertising. We have a modified experience for viewers using ad blockers

Wikia is not accessible if you've made further modifications. Remove the custom ad blocker rule(s) and the page will load as expected.