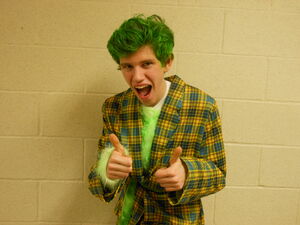 The Grinch is a cold and heartless furry green recluse living in seclusion on a cliff overlooking the cheerful, optimistic, and sunny community of Whoville, scorning the Christmas season and the boisterous festivities customarily celebrated during the holiday, dreading the noise. However, a fellow contributing factor to the Grinch's animosity and bitterness regarding the holidays include the small size of his heart, and therefore this has resulted in his inability to appreciate holiday joy.
He eventually moved from Whoville to Seattle in order to host his own radio show, The Grinch Spins Out the Hits! He recently moved back to Whoville.  He is very clumsy, and is constantly embarrassing his father. He has restarted his friendship with Jim the Cougar-Giraffe.
Appearances
Edit
- Pilot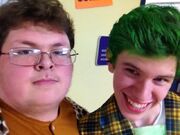 - Pork
- Florida
Ad blocker interference detected!
Wikia is a free-to-use site that makes money from advertising. We have a modified experience for viewers using ad blockers

Wikia is not accessible if you've made further modifications. Remove the custom ad blocker rule(s) and the page will load as expected.