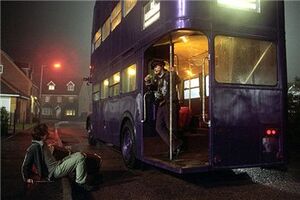 The Knight Bus is a triple-decker, purple AEC Regent III RT that assists stranded individuals of the wizarding community through public transportation. It operates at a very fast speed and obstacles will jump out of its way. To hail the bus, a witch or wizard must stick their wand hand in the air in the same manner that a Muggle might do to hail a taxi, though it is possible to book tickets for travel on the bus in advance. The Knight Bus' conductor is Stan Shunpike, who greets passengers and handles baggage, and is driven by Ernie.
Ad blocker interference detected!
Wikia is a free-to-use site that makes money from advertising. We have a modified experience for viewers using ad blockers

Wikia is not accessible if you've made further modifications. Remove the custom ad blocker rule(s) and the page will load as expected.