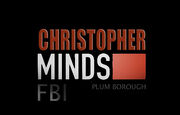 The Man Who Knew Too Much
is the pilot of
Christopher Minds
.
Chris Frank as Chris Frank, Behavior Analysis Expert
Adam Molinaro as Carter Williams
RJ Geibel as Smithy Jones, former CIA Agent
David Cross as Kevin Thompson, former Navy SEAL
Jordan Casteel as Enrique Estaves, former Spanish intelligence officer (only speaks Spanish)
Dan Power as Roy Oswald, Forensic Investigator from NYPD
Matt Shepard as Security Guard
David as The Mysterious Stranger
Ad blocker interference detected!
Wikia is a free-to-use site that makes money from advertising. We have a modified experience for viewers using ad blockers

Wikia is not accessible if you've made further modifications. Remove the custom ad blocker rule(s) and the page will load as expected.