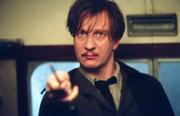 The Monster Mash is the first episode of the second season of the Death Star, and the 15th overall.
Darth Vader hires Professor RJ Lupin and Professor Severus Snape onto the Death Star, and tensions run high.
Professor Dumbledore (scenes cut)
Production
Edit
Partially inspired by that one episode of Chad Vader where Clint hires a vampire. I wanted to do a parody of Twilight, and I thought, "Hmmm, I need both a vampire character and a werewolf character. Snape and Lupin!" And the best idea I've ever had was born.